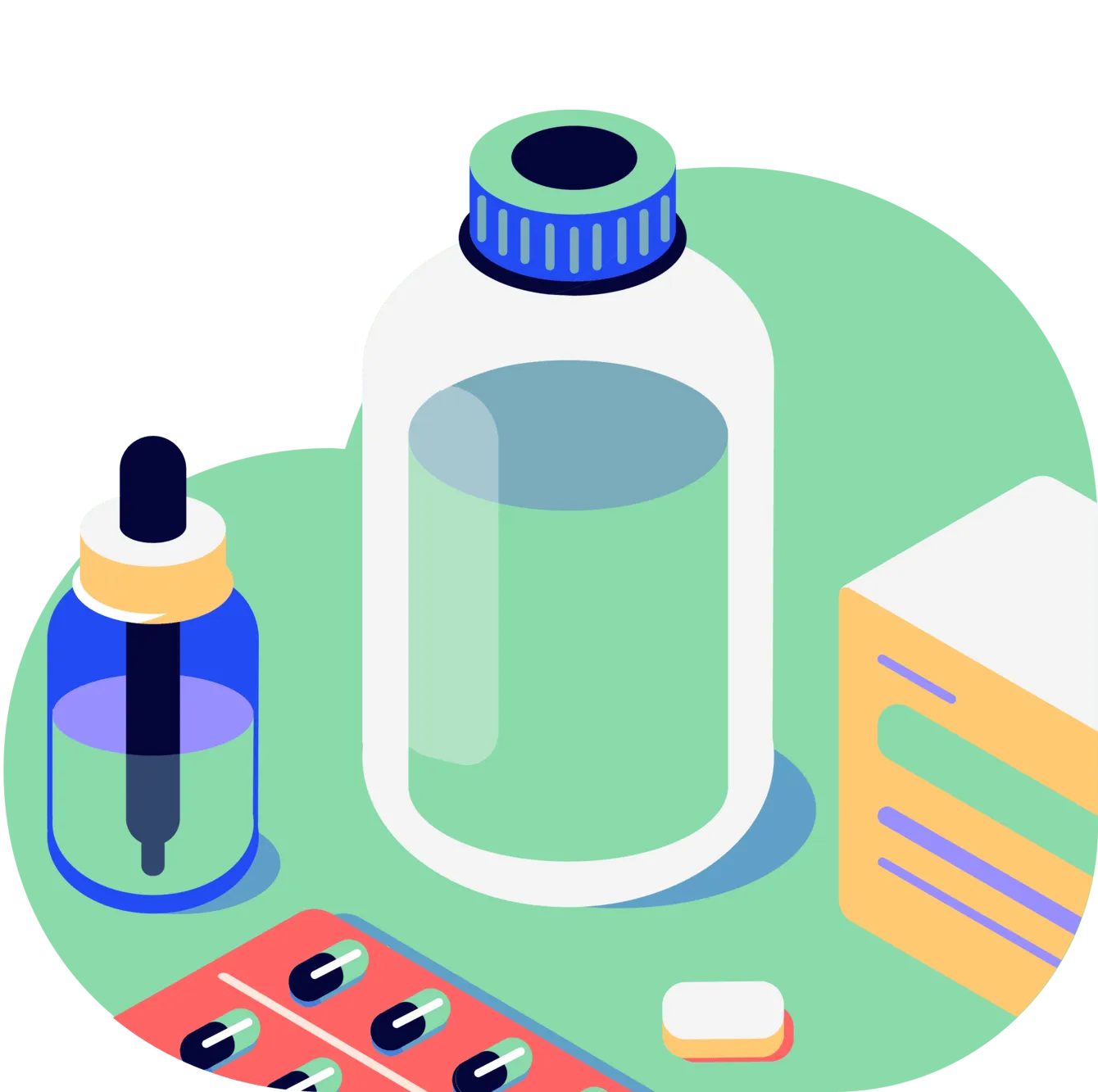 More information
Effective treatments for healthy and sustainable weight loss
According to NHS research, 67% of men and 60% of women in England are overweight. Of those, 26% of men and 29% of women are obese. Being overweight can cause a number of serious health conditions later in life, including heart problems, high blood pressure, type two diabetes and respiratory illnesses.
Everyone wants to live a healthy life - but for many of us, the challenges of everyday life can simply get in the way. Thankfully, we offer a range of prescription medications clinically proven to help people lose weight - up to 50% faster than with diet and exercise alone. Use our simple BMI calculator to find what treatment is best for you.
As one of the UK's trusted online pharmacies, all our prescription weight loss treatments are approved by the Medicine and Healthcare products Regulatory Agency (MHRA). See our full range of weight loss medications here.
More information
Once an online consultation has been approved by one of our medical professionals, then we will ship the treatment to you in a discreet package using our swift courier service.
To read more about hair loss and its treatments, visit the NHS choices website. If you have not used any of the treatments before then we strongly advise that you read the patient information leaflets before use, which can all be found on medicines.org.uk.
Weight Loss Information
Obesity has quickly become a national and global issue as more and more people around the world are consuming unhealthy foods and not exercising.
With the increase in obesity rates in the UK, it's important to maintain a healthy weight, and prescribed medication alongside a healthy lifestyle can be the perfect way to help you do so.
If you are concerned about your weight and think that you may be obese, there are plenty of ways to lose a few stone and live a happier and healthier life; whether it's through weight loss medication or just following a more active lifestyle. This page takes a look at obesity and some of the options available for those who are suffering from it.
What is obesity?
Obesity is a term used to describe somebody who is considered overweight due to an excessive amount of body fat (take a look at the NHS BMI Calculator to see if you are considered overweight).
The excessive accumulation of body fat can have a detrimental effect on the human body, causing a number of health complications from serious heart conditions and high blood pressure to certain cancers and diseases. People who are obese are 28% more likely to develop heart disease and are at higher risk of developing certain types of cancer. Obesity is also one of the main risk factors for developing diabetes.
There are many factors that provide difficulties in avoiding obesity. Typically, obesity is the result from a range or combination of elements, such as:
Personal diet
Lack of exercise
Genetics
Mental health problems
Certain medications
Environmental pressures
However, there are many ways to reverse this problem and even prevent patients from acquiring health problems associated with obesity. A positive change in diet, increase in physical activity, prescribed medication and behavioural changes can all contribute to an effective and healthy amount of weight loss.
What body weight is obese?
The weight range for obesity varies depending on your height and body mass index (BMI). Whilst BMI is a commonly used method to define obesity, diagnosing obesity by BMI alone is misleading, because if you have a lot of muscle on your frame, your BMI will be higher than normal but your body fat percentage may not be. For example, 13 stone may be heavy for somebody who is five foot tall, but it may be underweight for somebody who is six and a half feet tall.
The most common way of calculating whether you are obese, overweight, a healthy weight or underweight is to use a BMI calculator. However, this method doesn't take into account different body shapes and sizes, or where the weight sits on different people. A better measurement of excessive fat is to record your waist size as well as taking into account your BMI.
If you think that you are obese, it's a good idea to speak to your doctor. They have more sophisticated ways of measuring you that will determine whether you need to lose weight and how much you should aim for.
Obesity in the UK
Obesity is a major public health concern, especially in the UK, as instances of obesity in both men and women are exponentially rising each year, according to the NHS.
This common affliction occurs up and down the country as an estimated 28% of the UK population is obese and a further 36% are overweight. According to results, obesity affects one in every four adults and one in every five children in the UK. But it doesn't stop there. According to studies, obesity has nearly tripled worldwide since 1975 and is now branded as a global epidemic by the World Health Organisation.
Concerns about obesity and the health issues that it can cause have resulted in sugar taxes throughout the UK, healthier school meals for kids and more transparency about the nutritional value of certain foods.
How to kick start weight loss
If you are overweight or obese and want to lose weight, you may be at a loss of where to start. In this section, we explore all the different ways you can lose weight efficiently, from simple daily exercise routines to weight loss treatments and effective diets.
Weight loss medication
If you need to kick start your weight loss programme and have a lot of excess weight to shift, you may benefit from weight loss tablets or injections for weight loss.
Weight loss medication should not be used by people who are just a little overweight, but if used correctly they are a safe and effective form of weight loss for obese individuals. Injections for weight loss will help you burn fat at a faster speed, whereas weight loss tablets stop your body from absorbing fat.
Neither of these weight loss medications controls what you are eating, so it is important to also exercise and follow a healthy diet. When used in conjunction with a healthy lifestyle, weight loss tablets and weight loss pens can help kick start your weight loss journey. These include Saxenda, Wegovy and Mounjaro.
What exercise is best for weight loss?
Any exercise that helps you burn calories is great for weight loss. If you are completely new to exercising, you could initially try walking more. Getting outside for a half-hour walk a day can help you burn up to 200 calories, and you can build up to more as you start to feel fitter. If you can't manage half an hour at first, just do what you can and build yourself up.
If you are used to other exercises or want to try something new, here are some other exercises that are great for fat burning.
Cycling - this is a popular exercise for weight loss because it is relatively low intensity and you can still burn a lot of calories - up to 300 per half hour. You can either cycle outside or indoors on an exercise bike.
Jogging - the average person burns around 300 calories per half hour of jogging. Again, if you can't do half an hour, to begin with, you can start small - try just five or ten minutes - and build up. You could also do a mix of walking and jogging. The NHS has launched a successful initiative called Couch to 5K that can help you build up over time.
Weight training - if you are serious about losing weight, don't skip the dumbbells! Lifting weight not only burns calories itself but if you train with weights regularly your resting metabolic rate (RMR) will increase, which means that your body will naturally burn more calories.
What foods are good for weight loss?
As well as training, it's important to eat right to lose weight. You should focus on low-calorie foods that are also filling.
Stick to healthy protein sources. This includes things like tofu, beans (although these can be high in calories so use them sparingly), fish, eggs, and lean meat.
Eat plenty of vegetables. These have very few calories, are really filling, and are packed with vitamins and minerals.
Eat a little fruit. Fruit does contain natural sugar, so you shouldn't eat countless portions per day, but it also contains lots of vitamins and minerals and is relatively low calorie.
Eat carbs but in moderation. You need some carbs for energy, but make sure that you are aware of how many calories each portion contains and measure them out properly. Brown or wholemeal bread, rice and pasta are much better for you than their white variants.
You should limit your consumption of food that is high in sugar, saturated fat, and salt. However, do let yourself enjoy some of these foods in moderation if you are craving them - doing this will prevent you from binging. Try to measure out these foods in small portions or look for low-calorie alternatives.
How to maintain weight loss
Once you've lost some weight, whether that's through weight loss pills, injections, exercising or a healthy diet, the next step is to keep it off! Some pills and injections for weight loss are recommended for people for a short time while they maintain their new weight. However, it's more important to stick to a healthy diet and exercise routine.
You can use online tools or exercise watches to work out how many calories you burn each day. Then, create a healthy diet for the same amount of calories. By doing this, you'll balance how much you are burning with how much you are consuming and maintain your weight.
How much weight loss is concerning?
You can't lose weight too quickly, as this is also unhealthy. An average of 10 pounds a month (4.5 kilograms) is a good goal that is sustainable. If you are losing weight at a quicker pace, speak to a dietician or a doctor who will be able to advise you. Once you reach a healthy weight, you should maintain this. If your BMI drops below 18.5, you may be underweight.
For more information on how to lose weight, take a look at the NHS website, which has a plethora of methods to use that can tackle and help with your weight loss journey.
Cloud Pharmacy also offers treatments to help you lose weight that has been shown to work well with a good diet and exercise. All you have to do is complete an online consultation, which is reviewed by our UK prescribers and your item will be sent to you in discreet packaging should you qualify for treatment the very next day.
First...

Complete a quick eligibility check

Finally.

Fast, confidential delivery to your door