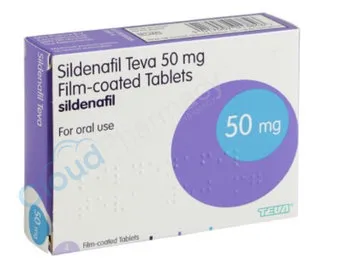 Type

Tablet

Consumption

Oral

Availability

In Stock
Genuine medication
Lasts up to 4 hours
Popular Erectile Dysfunction Treatment
Works in 30-60 minutes
All drugs sourced in the UK

Sildenafil
From £6.99
Medication features
Sildenafil is the active ingredient in Viagra tablets. It treats erectile dysfunction by increasing the blood flow to the penis, resulting in a harder, longer lasting erection. The popular blue pill is a convenient and effective treatment for men, helping to boost confidence and improve performance.
*Other treatments for Erectile Dysfunction are available here*
Please note: This page is only to be used as a reference of our price for this medication. If you are approved you will be offered treatment for you and the prescriber to jointly consider. However, the final decision will always be the prescriber's.
NOTE: After selecting this product, you will need to complete a short assessment, so we can make sure this medication is suitable for you.
Order by 3:30pm, Monday to Friday to be eligible for next day delivery
Overview

What is Viagra and What is it Used For?
Sildenafil citrate is the generic version of Viagra. Sildenafil is the most widely known treatment for men who suffer from erectile dysfunction. Erectile dysfunction or impotence is when a man sometimes fails to get or maintain an erection. Erectile dysfunction can be attributed to a variety of factors such as stress, anxiety, tiredness and alcohol consumption, however- it is nothing to be embarrassed or worried about. Sildenafil has been clinically proven to improve erections and sexual activity for up to 95% of men tested.

What is The Difference Between Viagra and Sildenafil?

Sildenafil citrate is the active ingredient that makes up Viagra. Sildenafil is the unbranded version of Viagra and it exerts its effects in the exact same way, however Sildenafil is available at a much lower cost than Viagra.

Generic medicines are required to meet the same standards, safety, efficacy, strength and quality as the branded medication (in this instance Viagra). For the generic version to receive market authorisation from the MHRA and European Medicines Agency (EMA) the generic must be bioequivalent to the original product.

Buy Viagra Online

If you are looking to purchase Sildenafil online, a licensed online pharmacy services like Cloud Pharmacy is your best and safest option. Our UK based and qualified prescribers will review the answers to your online consultation to ensure the medication is suitable for you, if your answers indicate you are indeed suffering from the symptoms associated with erectile dysfunction, our prescribers will generate an electronic prescription, which will then allow us to dispense the medication from Cloud Pharmacy and send it to your address.

There are many websites, which claim to sell Viagra or Sildenafil, however the majority of them are not legitimate UK online pharmacies. All UK based online pharmacies must go through a very rigorous and stringent process in order to gain approval from the General Pharmaceutical Council (GPhC) and the MHRA. Unregistered pharmacies could sell an array of counterfeit medications, making them very much unsafe and could have the potential to cause harm to the patient if consumed. Sildenafil is a Prescription Only Medicine (POM), and any website that sells Sildenafil or any POM without a UK licensed doctor or prescriber is unsafe.

Buy Cheap Viagra UK

As mentioned previously, cheap viagra can be found in the form of Sildenafil, the generic form of Viagra, which has the same active ingredient and works as the exact same way as Viagra does, however it is not manufactured by Pfizer who initially discovered and marketed the medication for hypertension. Cloud Pharmacy offers the cheapest Viagra and Sildenafil out of all of our competitors. There are many competitors online that promote medication however they do not have the correct licensing to sell medications online such as GPhC registration, MHRA, CQC or HIS.

Many online pharmacies on the surface may seem reliable and legitimate, however they have supplied counterfeit medication. A hospital found that their entire stock of Viagra was counterfeit. The Viagra was being used in a children's hospital to treat pulmonary oedema. A staff member found that the medication was fake due to a noticeable difference in consistency.

The pharmacist responsible for selling these medications and supplying the hospital has had his license revoked. Mr. Attia, the pharmacist, was buying the medication from an unlicensed wholesaler, whom was selling their stock from an unmarked van. This did get Mr. Attia the cheapest deal, however he in turn endangered many people's lives by behaving recklessly. Cloud Pharmacy uses regulated and registered wholesalers in the UK, exact same wholesalers that big high street pharmacies use.

How Much Viagra Should I Take?

The recommended starting dose for Viagra or Sildenafil is ONE 50mg pill to be taken ONE HOUR before any sexual activity. If you achieve the desired effects, however you begin to suffer from side-effects, try lowering the dose to 25mg. If you have tried 50mg on FOUR separate occasions and are NOT suffering from side-effects increase your dose to 100mg. If you have tried 100mg on EIGHT separate occasions and are not achieving the desired effects, stop treatment immediately and consult your doctor.Do not take Sildenafil or Viagra more than once a day, it will not increase the efficacy and will likely lead to you experiencing undesired effects.

How Do I Take Viagra?

Sildenafil should be taken 30 minutes to 1 hour before sexual activity. It must be swallowed whole with a glass of water. Sildenafil can be taken with or without food, however you might find it takes longer to work if you have had a heavy meal.

FAQ

What is Sildenafil?

Sildenafil is a medication used to treat erectile dysfunction (ED) in men. Sildenafil or Viagra work by inhibiting an enzyme called phosphodiesterase type-5 (PDE-5), which is found in smooth muscle. Inhibition of this enzyme or protein increases blood flow to the penis to help men get an erection. At least 2/3rds or 66% of men have had improved erections after taking sildenafil.

Sildenafil can on occasion be used to treat pulmonary hypertension (pulmonary hypertension is a type of high blood pressure that affects blood vessels that supply blood to your lungs). Sildenafil was originally developed for the treatment of hypertension (high blood pressure) and angina.

Sildenafil is avaialble via a prescription and can be bought from almost all registered online pharmacies.

What is Sildenafil 100mg UK?

Sildenafil 100mg UK is the strongest strength of Sildenafil (Viagra) availalbe in the UK. 100mg sildenafil citrate is avaialble for purchase from Cloud Pharmacy as well as 25mg and 50mg strenghts of sildenafil.

When Was Viagra / Sildenafil Invented?

The Sildenafil compound was originally developed by drug giant Pfizer in the 1980's for the treatment of hypertension (high blood pressure) and angina pectoris (chest pain due to heart disease). During the heart clinical trials, researchers discovered that the medication was better at inducing erections that it was at treating angina.

After undergoing clinical trials in the 1990's sildenafil (Viagra) was patented in 1996 and went onto the market in 1998 after receiving FDA approval. Viagra has been on the market for over 20 years, meaning it is the oldest medication on the market approved by the FDA for erectile dysfunction.

Is Teva Sildenafil the Same as Viagra?

Sildenafil Teva is the generic version of viagra that is used for the treatment of erectile dysfunction (ED). Viagra is so popular that members of the general public whom are not normally familiar with medications are likely to know that the Viagra can be used for the treatment ED.

Teva Sildenafil is the generic version fo Viagra, as mentioned previously the medication Viagra for ED was brough to market by Pfizer in 1998. Once the patent had expired a 'generic' version of the medication was now legally allowed for production by other drug manufacturers.

The generic version fo Viagra is Sildenafil and Teva was the first generic drug manufacturer to make sildenafil and sell it. It was widely distributed and much cheaper than viagra, whilst exerting the same effects.

How Do You Take Sildenafil?

Sildenafil (Viagra) should be taken 60 minutes prior to any sexual activity. For increased likelihood of better performance it is advised that you take sildenafil on an empty stomach. It is important to not take more than 100mg of sildenafil citrate in a 24 hour period. If you take Sildenafil with high volumes of alcohol (more than two units) there is a chance that it may not work.

Since sildenafil was primarily developed to reduced blood pressure, taking Sildenafil (viagra) with alcohol (which also reduces blood pressure) may increased the likeliehood of side effects such as dizziness, lighheadedness, fainting, flushing, headache and heart palpitations.

How Long Does It Take for Sildenafil to Start Working?

Sildenafil usually takes 30-60 minutes to have noticeable effects. It's effects can last for up to 5 hours, however this is largely dependent on various factors, for example how much food you have had to eat before taking sildenafil or how big/small you are.

Side Effects

Sildenafil is generally well tolerated, and free from any significant side-effects. Sildenafil does come in a range of doses, meaning the dose can be adjusted for any men who do experience side-effects. The most common side-effects include headache, flushing and indigestion. For a more thorough list of the side-effects associated with sildenafil, please refer to the Patient Information Leaflet (PIL).

Info Leaflet