PrEP (Pre-Exposure Prophylaxis)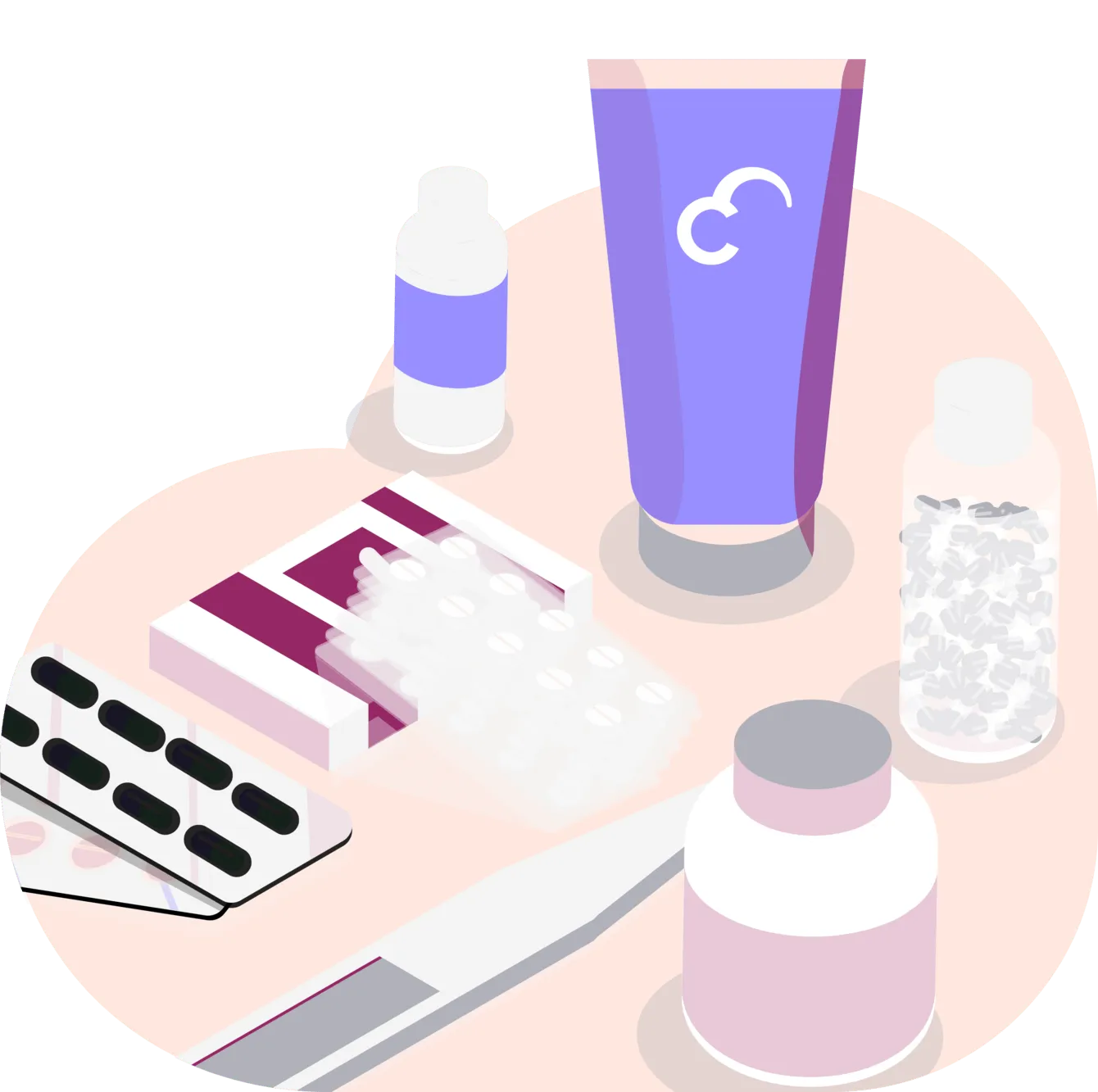 More information
Buy HIV Prevention Medication Online
PrEP (Pre-Exposure Prophylaxis) is a form of HIV medication used to prevent the spread of certain diseases. It is usually prescribed to people who are HIV-negative but are at risk of being exposed to the virus, whether they actively engage in frequent intercourse with multiple partners or are in a relationship with an HIV-positive person.
The medication effectively prevents HIV from infecting a person when they come into contact with the virus by efficiently safeguarding the cells that the virus accesses in the body. This prevents the spread of HIV throughout the body, therefore stopping the virus from infecting the host.
More information
Once an online consultation has been approved by one of our medical professionals, then we will ship the treatment to you in a discreet package using our swift courier service.
To read more about hair loss and its treatments, visit the NHS choices website. If you have not used any of the treatments before then we strongly advise that you read the patient information leaflets before use, which can all be found on medicines.org.uk.
What Is PrEP?
PrEP (Pre-Exposure Prophylaxis) is a form of HIV prevention medication. It is usually prescribed to people who are HIV negative and prevents HIV from infecting a patient when they come into contact with the virus.
PrEP is most often prescribed to people considered at high risk of contracting HIV, such as those in relationships with HIV-positive people or those who engage in frequent intercourse with multiple partners. It is often recommended to take daily or before engaging in sexual intercourse and comes in pill form. It is best used in conjunction with condoms for safe sex and has an up to 99% effectiveness rate.
How Does PrEP Work to Prevent HIV?
By taking PrEP before being exposed to HIV, you ensure there is enough of the medication in your body to prevent HIV from crossing over into healthy cells. The medicines in PrEP include tenofovir and emtricitabine, which are also used to treat HIV. It is crucial to take PrEP as advised by your doctor to ensure maximum efficacy.
Pre-Exposure Prophylaxis effectively sets up a safety wall around your CD4 cells, which are the cells that HIV accesses in order to spread around your body.
How Effective Is PrEP?
PrEP is incredibly effective if taken correctly – as high as 99% effective against transmission of HIV. When taken in combination with wearing condoms for sex, the effectiveness of PrEP is even greater.
PrEP can also protect those who share needles against transmission of HIV by up to 70%. You should take PrEP daily to ensure you get the right amount of medication into your system. Missing pills can cause the medication to become less effective, so you should aim to take the medicine at the same time each day.
How Long Does PrEP Take To Work?
How long Pre-Exposure Prophylaxis takes to be effective depends on your situation. The time it takes for maximum effectiveness for those receiving anal sex is seven days. For anyone receiving vaginal sex, or those who inject drugs, the medication is most effective after 21 days.

There has also been success seen in people who take PrEP before sex. This is known as on-demand dosing, and it is essential to note that the effectiveness of this type of dosing has only been tested in homosexual and bisexual men. In this case, PrEP should be taken between two and 48 hours before sex, followed by two more pills 24 and 48 hours after sex.
Who Should Take PrEP?
PrEP can be taken by men and women. It is most often prescribed to anyone who may be at higher risk of contracting HIV. There are several risk factors that may lead your doctor to prescribe you PrEP. These include:
Someone in a relationship with someone who is HIV positive
People who inject intravenous drugs
Homosexual or bisexual men who have sex with multiple partners and don't use condoms
Anyone having a sexual relationship with someone high risk and that does not use condoms
Sex workers
You can get PrEP from reputable online pharmacies like Cloud Pharmacy. Always choose a trusted source to get PrEP from and ensure you take it as instructed.
Do You Need an HIV Test Before PrEP?
You will need to take an HIV test before you can start taking PrEP. This is because PrEP is only suitable for those who are HIV-negative. Taking PrEP while HIV positive can result in a resistance build-up to the drug, as Pre-Exposure Prophylaxis includes two of the medications used to treat active HIV.
While taking PrEP, you will also need to get regular testing for HIV, kidney function, and STIs. PrEP can cause kidney damage in some patients, which is why doctors usually recommend a test every three months.
As PrEP does not protect against other STIs, it is a good idea to get regular check-ups if you regularly engage in sex with others.
Is PrEP Safe?
PrEP is safe for use by most patients who are HIV-negative and in good health. Your doctor will let you know if you are unsuitable to take PrEP due to safety concerns, but this is rare.

It is important to remember that PrEP can be incredibly effective against contracting HIV but will not protect against other STIs. If you are concerned that a sexual partner has another STI, you should ensure that you have protected sex using condoms. You should also take regular STI tests when having unprotected sex to ensure you remain safe and healthy.
You can order STI test kits from our online pharmacy that can be carried out from the comfort of your own home, such as chlamydia & gonorrhea test kits.
Can You Buy PrEP Over the Counter?
You may need a prescription to buy PrEP. It is also available from NHS clinics throughout the UK. If you want to buy PrEP online, here at Cloud Pharmacy, we can provide Pre-Exposure Prophylaxis after an online consultation has been approved by one of our medical professionals. This is then delivered directly to your door in a discreet, unmarked package.
How to Take PrEP
As mentioned previously, you can take PrEP in two different ways:
One pill is taken daily
On-demand – taken two to 24 hours before sex and then two additional pills 24 and 48 hours after sex
Women are advised to take PrEP daily, as it takes seven days of continuous use to be protected from contact with HIV. The daily method is also recommended for transgender people taking hormone treatment, as there has not yet been enough research to confirm the effectiveness of on-demand dosing for this group.
The way you take PrEP will depend on your gender, circumstances, and the type of sex you will be engaging in. If you are unsure how best to take PrEP, you should consult your doctor or pharmacist, who can give you recommendations.
How Long to Take PrEP For
You do not need to take PrEP for life. You can usually take the medication for as long as you feel you need it, which could be weeks, months, or years.
You will need to stop taking PrEP if you test positive for HIV. It is advised to go for regular testing to ensure you have not contracted the virus. This should be at least every three months.
Some of the other common reasons for stopping PrEP treatment include:
Ending a relationship with an HIV positive partner
If you no longer have unprotected sex with strangers regularly
Beginning a relationship with someone who is confirmed HIV negative
Side Effects of PrEP
There are a few common side effects associated with PrEP, and these are rarely serious. Most side effects will go away within the first few weeks of using Pre-Exposure Prophylaxis, but if they persist or become challenging to live with, you should discuss this with your doctor.
Some of the most common side effects include:
Headaches
Dizziness
Bloating
Fatigue
Diarrhoea
Depression
More serious side effects can include kidney damage, though this is very rare. It can occur if you have kidney issues before you start taking PrEP or if you are on other medications that may impact your kidneys. For this reason, your doctor will also send you for regular kidney testing alongside HIV and other STI tests.
Our expert team here at Cloud Pharmacy is on hand to answer any questions you may have regarding PrEP treatment.
Guides
We don't currently have any guides for this condition yet. Please check back soon.
First...

Complete a quick eligibility check

Finally.

Fast, confidential delivery to your door